Our new Club President Lion Brian Treadwell - 2016/2017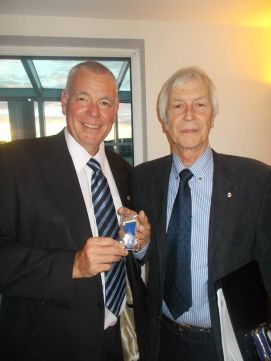 Congratulations to Lion Brian Treadwell (pictured right)who is our Club President from 1st July 2016 to 30th June 2017. We wish you every success for the year ahead and will continue with our full support.
"I take it as an honour to be asked to be the Reading President for the next year. Many of past Presidents have said they have had a hard act to follow as we have been represented by good Presidents in the past. This I agree with and I will do my best to follow in that tradition of excellence. With the experience and help of our members, and an excellent secretary, I see no great problems taking on this role and thank the members for their trust in me.
I would like to re-introduce the Fun Day and believe I have identified a good site to hold this on.

Most posts have a Deputy to aid the lead name and I would like to see this true of all jobs as this can lead to the Deputy feeling they can take on the role as lead in the following year.

I thank all members for their hard work over the past year and look forward to the coming year. The ongoing events seem to go from strength to strength and I hope that the Firework night is dry, our prostate cancer testing event finds no 'red' letters and Father Christmas behaves himself."
Lion President Brian Treadwell.
Our Club President Lion Graham Papierowski - 2015 / 2016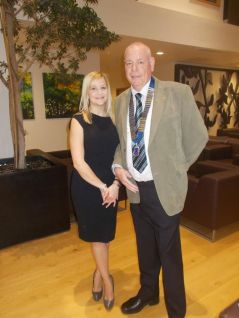 Congratulations to Lion Graham Papierowski who is our new Club President for the period from 1st July 2015 to 30th June 2016. We wish you every success for the year ahead and offer our continued support.
"It is a massive honour to be asked to be President of the Lions Club of Reading for the next 12 months. Looking back over the past 50 years of the club, I have some very tough acts to follow. I have been a member of the Lions Club of Reading for some 11 years and up until now I have always classed myself as a helper within the Club, helping raise monies at our fundraising events, such as Fun Day, our Catering van, Fireworks Event and of course the annual Santa round during the month of December.
During the next 12 months we plan to reinvent our Fun Day, to make it bigger and better than ever, (we have set up a dedicated team to achieve this). Our Fireworks event on Saturday 31st October 2015 will also have a Halloween theme this year, and I have been assured that it will be our best firework show to date. We will also hold our 4th annual Prostate Cancer Awareness evening in early 2016. This year's event tested just over 700 local men and this is something that Lions Clubs throughout the UK have now seen as a major Lions event and it is the Lions aim to test 100,000 men over the next two years. These tests are all funded by the Lions Clubs, through their fundraising ideas and efforts.
A large proportion of the monies raised locally is put back into the local community and a percentage pooled together with other Lions Clubs around the world to assist with major disasters and other humanitarian needs. Every member of Lions Clubs throughout the world is a volunteer and we all give out time freely and willingly to put something back into our communities. So if you fancy joining our happy team of fundraisers and community service volunteers, you will be most welcome.
Thank you all for all your past and future support."
Lion President Graham Papierowski.
Our Club President Lion David Hitchins - 2014/2015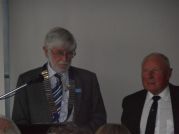 Congratulations to Lion PCC David Hitchins who is our new Club President for the year from 1st July 2014 to 30th June 2015. In this our 50th year, all the members wish you a very successful year as President and offer you our full support and encouragement.
'I'm really honoured to be serving as the new President of the Lions Club of Reading during a significant year - our 50th Anniversary. Such a milestone will focus the minds and energies of our group of volunteers on raising funds for local needy causes and continuing with our valuable community service projects. As a club we aim to make fundraising events both successful and enjoyable to all who take part. We will continue to receive many applications for assistance and each one will be carefully considered, increasing the need for us to be creative with fundraising ideas. For the third year the Prostate Cancer Awareness Evening will offer free PSA tests to men over 50 in Reading; the Community Family Fun day will continue as a more dynamic event, offering many more attractions.
Our traditional events include the Santa's Float collection in December and the Firework Display in November. We endeavour to make both entertaining while at the same time generating funds to support local needs in Reading. Your continued involvement and support makes a great difference.'
Lion President David Hitchins.

Our Club President Lion John Rowe - 2013/2014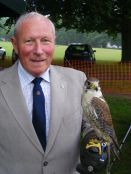 Congratulations to Lion John Rowe who is our new Club President for the year from 1st July 2013 to 30th June 2014. All the members wish you a very successful year and will support you in all your endeavours.
'As the new President of the Lions Club of Reading I am happy to continue the excellent work of my predecessors raising funds for local needy causes and continuing with our valuable community service projects. We are a group of volunteers and our fundraising events need to be both successful and enjoyable to all who take part.
With the current financial restrictions we are receiving many more applications for assistance and are ever looking for ways to expand our activities. In addition to our traditional Community Fun Day and Santa's Float collection we have now introduced a wine, beer and cider festival in July and Firework Display in November. We are hoping both events will be entertaining but also bring in funding to allow the Club to continue to assist the needy in Reading. We hope that with your continued support our help will be there for those in need.'
Lion John Rowe.
A message from our new Club President 2012 / 2013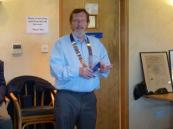 "As the new President for 2012 - 2013 I am looking forward to the year ahead. My aim is to make our Club meetings business-like yet fun. I am very proud of the work of the various committees within the Club and delighted that our projects receive the full support of all the members. We are currently planning our first Fireworks Extravaganza for November 2012. We are also hosting another of our fundraising Gala Dinners with the monies raised to be distributed amongst various Armed Forces Charities. I am also looking forward to my annual stint as 'Santa' when we take our sleigh to the streets of Reading in December. Let's hope for some nice weather! The general public have always been very generous with their donations and I am confident that with their kind support we can continue to make a difference to those in need in our local community."
Lion David Lawton.
Club President 2011/2012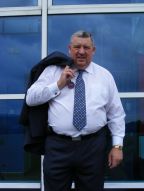 "As the new President of the Lions Club of Reading for the year 2011-2012, I would like to continue with the excellent relationship we have with our local partners, such as Reading Borough Council and Reading Football Club Community Trust, to name but a few.
Most of us, either from the Lions Club or our local partners give freely of our time, trying to raise funds for, or give our time to our local communities, individuals or organisations that need our help.
We will also continue to support other Lions Clubs around the world with their projects.
I know we make a difference - if you are interested in becoming a Lion or learning more about the work we do, please have a look at our website for further information, or why not join us at one of our meetings where you would be made most welcome."

Lion Dave Ebsworth.
My six month report:
"I am now just half way through my year as President which has had a lot of happiness and of course it's share of sadness too. The sadness relates to the loss of a lovely man and friend, Lion David Hatton and to members and their family members who have unfortunately been affected by cancer. I speak on behalf of the club when I send best wishes for a speedy recovery. On a happy note, just before christmas, by joining together with members of the public, Pangbourne Rotary Club, Caversham Round Table, Pangbourne Lions Club and of course our own club we were able to raise enough funds for a local young boy to be provided with a new specially adapted trike. Following the generosity of the local people of Reading and the surrounding area we raised more than six thousand pounds from our collections with Santa and his sleigh. These funds will enable us to continue to answer appeals for assistance from those in need. We have also been very active with our community projects over the last six months, whether this be our commitment to maintaining the green space at County Lock, providing food vouchers for the needy at Christmas, painting and decorating a classroom at Phoenix House, answering individual appeals for help, or planning our 2012 Community Fun Day and November Firework event, to name but a few. We are also working closely with the Reading Powerchair Football Club and supporting the Reading FC Community Trust Kickz projects. There is of course still much work to do so we as a club will continue to work with the youth, to find new ways to raise money and most importantly be there to help others where needed."
Lion President Dave 'Ebbo' Ebsworth.